Job Offer – Executive Assistant – Member services
POSITION: Executive Assistant – Member Services
LOCATION: Ahuntsic Cartierville borough
SUMMARY
Job type: Permanent
Schedule: 35 hours/week
Main job field: Administration
Secondary field: Member services
Years of min. relevant experience: 5
Min. education: College – University
Salary: to be determined
Deadline for applications: April 12, 2019
THE ORGANIZATION
The Société de développement commercial (SDC) District Central – the third largest in Montreal – is the catalyst and the voice for the Ahuntsic-Cartierville business world. It represents the combined forces of 1,800 business leaders united to develop a sector with outstanding economic, urban and human potential. Its mission is clear: breathe new life into this legendary neighbourhood, make it shine on a broader stage and propel it to the very top of Montreal's economic landscape. To do so, the SDC is seeking ways to diversify the District's economic base and attract new businesses in both traditional and new-economy industries. The SDC also aims to contribute to the prosperity of its members based on a B2B business model, by making the District Central an attractive place to live and work, to be a part of a movement, and to leave their mark on a thriving neighborhood that will soon be the most dynamic business district on the Island of Montreal.
The District Central is Montreal's 4th largest employment hub generating more than 25,000 jobs in a growing business ecosystem, and has the potential to accommodate up to 40,000 workers. The district boasts a variety of industries and draws on 3 business pillars; design (textile), urban manufacturing and technology. The District covers a three square kilometer quadrilateral from Saint-Laurent Boulevard to Highway 15, and Highway 40 to Sauvé Street.
The SDC is looking for a dynamic and motivated individual to fill the position of Executive Assistant – Member Services to support the team, the Board of Directors and members of the SDC.
JOB DESCRIPTION
Under the direction of the Executive Director, the Executive Assistant – Member Services will provide administrative support to ensure the sound management of the organization. He or she will coordinate the organization's various activities and work closely on implementing the SDC's strategic plan for months and years to come. The main responsibilities include:
• Ensure the organization and administrative management of the office, such as follow up with various agencies and suppliers and, mail handling, filing of paper and electronic files;
• Be present at reception to greet clients, answer telephone calls and respond to generic e-mails on the website;
• Oversee bookkeeping, billing, accounts payables, source deduction and tax reports, and audit file preparations;
• Organize and coordinate meetings for the Board of Directors, work committees, annual general assemblies, the electoral process and other meetings and presentations for different audiences;
• Draft minutes, resolutions, grant applications, rendering of accounts and monthly activity reports;
• Ensure a thorough follow-up of files and requests;
• Keep the list of members up to date in collaboration with municipal agencies and provide strategic monitoring of territorial activities;
• Maintain relations with members through visits and regular contact, build and maintain effective communication;
• Help implement the CRM tool and update it;
• Draft various documents, presentation or newsletter to facilitate communication with members, landlords, and clients;
• Translate and correct various documents;
• Provide administrative support to team members;
• Perform all other related tasks
CONDITIONS
Effective start date: April 2019
Daytime schedule, available evenings and weekends on occasion
REQUIREMENTS
Diploma in a relevant discipline (administration, secretarial, legal) or relevant experience;
Minimum of 5 years' experience in a similar position;
Excellent command of Microsoft Office;
Excellent knowledge of Sage 50;
Knowledge of client management tools (CRM);
Knowledge of Illustrator, Photoshop, InDesign and other graphics software;
Knowledge of the business sector;
Excellent command of written and spoken English and French.
SKILLS
Autonomous, resourceful, interpersonal and dynamic;
Client-centric, focused on member services and clients;
Demonstrated ability to manage priorities and the organization, flexible and discreet.
TO APPLY
Please submit your resume by e-mail to [email protected]
Note: Only selected candidates will be contacted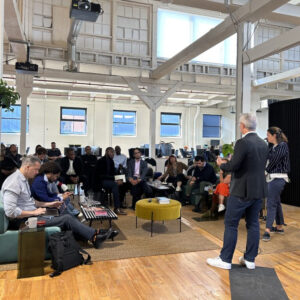 Dedicated to the international development of French businesses, the Paris-based organization Mieux Entreprendre recently chose District Central as its first stop on a tour of North American business districts, before…
Read More