District Central: The Rebirth
A New Business District is launched on the Island of Montreal
Montreal, November 12, – The Société de développement commercial (SDC) District Central launched a new business district in Montreal named District Central. The vision for the rebirth of this district was presented in front of a crowd made up of business people, landowners and several partners from Montreal's economic scene. The launch event was held in the spaces of SSENSE, a growing Montreal-based company that perfectly embodies the district's revitalization and potential. The SDC District Central is summoning all economic and political actors to take part in this resurgence and to become engaged in rebuilding the district's thriving background for present and future successes.
Strong Assets
District Central holds many enabling assets that are key to achieving its ambitions. With a built environment of 25 million sq. ft., nearly 1,800 businesses, over 3,100 business spaces, and 25,000 workers who transit there every single day, this area now stands as Montreal 4th largest employment hub and has the potential to hold up to 40,000 workers. District Central is well located and accessible, with two metro stations (Crémazie and Sauvé), three commuter trains, several bus routes and highways nearby. It boasts a high-quality frame inherited from the industrial boom that marked the end of the twentieth century—large spaces, loading docks, and very competitively priced square footage.
Reviving a Legendary District
District Central is located in the heart of the Island of Montreal, in the borough of Ahuntsic-Cartierville. Is it bordered by highways 40 and 15, as well as Sauvé Street and St-Laurent Boulevard. Chabanel Street is the main artery of the area, which is made up of five business areas: Marché Central, along with the areas of Acadie, Sauvé, Saint-Laurent and Chabanel. This legendary district features a distinctive history mainly related to the textile industry. The district reached its peak in the 90s, while the textile industry was bustling. Following several years of decline and a quest for revival, the district is finally experiencing its rebirth. A new wave of venturesome, creative and determined entrepreneurs is setting up shop within three main activity pillars: design, urban manufacturing and technology.
Today businesses such as Pixmob, Big Bang ERP, Maison Marie Saint Pierre, Matt & Nat and Fermes Lufa are a few of the successful business endeavours who call District Central home. Through them, the textile district has become the design district—factories are being transformed into urban manufactures and the technology industry is taking root.
A Forward-Looking Project with a Collaborative Vision
Since October 2017, the SDC District Central has worked with the economic and political environment as a whole to develop a collaborative vision shared by over one hundred business leaders. Furthermore, the SDC District Central will soon have a new business plan and will review its funding model to make sure its means match its ambitions. Given the current labour shortage, it is crucial for the SDC to create dynamic and attractive work environments so businesses are able to attract qualified workers.
Hélène Veilleux, Executive Director of the SDC District Central:
"The SDC District Central wishes to humanize the business world by bridging the different communities that work and live in the area. We plan to reconcile business life with society for the workers and citizens of the area to promote a feeling of belonging. With the great effort that has been invested in building a unifying vision and visual identity, the area is ready to step into the spotlight and reveal its ambition."
Charles Benchimol, Chairman of the Board of Directors of the SDC:
"It's the first time in the history of the district that a neutral body acts as a catalyst to align joint efforts that will allow structural projects to come to life, thus ensuring the revitalization of a dynamic district. We have a strong and unified voice for our area. I invite all stakeholders to take part in propelling District Central to the top the Montreal's economic arena."
Émilie Thuillier, Mayor of Ahuntsic-Cartierville:
"I am very impressed with the profound business engagement towards this vision, which is nothing short of a society project. As Mayor of the borough of Ahuntsic-Cartierville, I am committed to supporting and working alongside SDC District Central throughout this transformation process; this employment hub plays a pivotal role in shaping the dynamism of the borough and of the entire city."
Robert Beaudry, member of the Board of Directors responsible for economic and commercial development, and government relations:
"I am delighted to see the District Central business community come together and take action to reinvigorate this sector which is full of potential. The SDC District Central's desire to do more to develop the neighborhood's economy demonstrates the importance of modernizing the tools at its disposal. The mandate we gave to the Association des SDC de Montréal to review the role of the SDCs in Montreal will help us achieve these ambitions. "
Rami Atallah, Cofounder and CEO of SSENSE:
"In 2005, SSENSE moved into its very first offices and warehouse on Chabanel Street. Since then, we have relocated our offices three times and we now have over 600 employees. That said, we have always stayed in the District Central. Over the years, the district has allowed us the flexibility we need to support our growth. The fact that we are based in Montreal, and specifically in the District Central, has allowed us to focus on our vision—to create a global fashion platform and to redefine the future of retail."
About the SDC District Central
In operation since January 2017, the Société de développement commercial (SDC) District Central is the catalyst and voice of the business community in Ahuntsic-Cartierville. It represents a task force of 1,800 business owners, united to develop an industry with tremendous economic, urban and human potential. Its mission is clear: to give new life to this legendary district, to bring it back into the spotlight and to propel it to the top of Montreal's economic arena.
The SDC District Central endeavours to:
Revitalize

economic activity through an integrated urban business park within a sustainable living environment;

Transform

the perceptions of the district by focusing on accessibility and public image;

Enhance

social vitality by developing urban synergy that is beneficial to all.
555 Chabanel West
Suite R-02A
Montreal, QC, H2N 2H7
T: 514-379-3232
W: district-central.ca
About SSENSE
SSENSE, one of the successful commercial endeavours in District Central, is pioneering a new kind of business that fosters and promotes an interplay of creative, content-oriented and commercial activities. SSENSE now stands as Canada's largest online high-end clothing retailer.
333 Chabanel West
Suite 900
Montreal, QC, H2N 2H7
T: 514-600-5818
W: ssense.com
Media Relations – VROY Communications:
Aurélie Char, Account Manager
[email protected] I office: 514-982-9100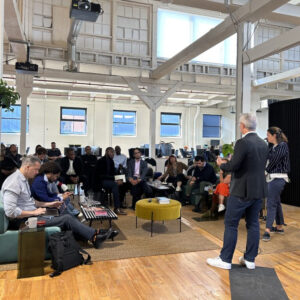 Dedicated to the international development of French businesses, the Paris-based organization Mieux Entreprendre recently chose District Central as its first stop on a tour of North American business districts, before…
Read More