La SDC District Central welcomes the appointment Mélanie Joly
Montreal, November 26, 2019 — The Société de développement commercial (SDC) District Central wishes to congratulate the MP for Ahuntsic-Cartierville, the Honourable Mélanie Joly, on her new role as Minister of Economic Development and Official Languages.
Delia De Gasperis, Chairman of the Board of Directors of the SDC, welcomes the news: "The revitalization of the Chabanel area is a key priority for Minister. Joly. She has the will to get this area back up on the map and create an attractive destination to do business, and she will be able to count on a business community mobilized around the SDC to help make this dream a reality." Honourable Mélanie Joly actively campaigned for the creation of the SDC District Central and has been working tirelessly to revitalize the sector, by promoting it to well-known businesses, such as Canada Post and Canada Goose.
The District Central, a historic industrial sector, is well on its way to becoming a true business district made up of five geographic zones including the Chabanel area. Since October 2017, the SDC has been working with the entire economic and political ecosystem to develop a concerted vision shared by more than 100 business leaders. The SDC has a business plan, objectives and tools to position the District Central in the Greater Montreal area. "We have a dedicated Board of Directors and a motivated team of professionals to succeed. We look forward to sitting down with the Honourable Mélanie Joly to discuss priorities, funding and the future. Today, the District Central represents the 4th largest employment hub and has the potential to accommodate up to 40,000 workers," adds Ms. De Gasperis.
Contact: Geneviève Dufour | Director of Strategy and Business Relationships | 514-379-3232 | [email protected]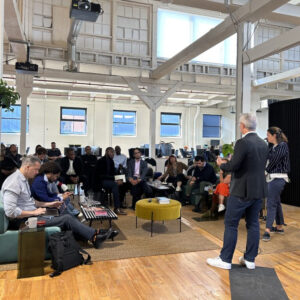 Dedicated to the international development of French businesses, the Paris-based organization Mieux Entreprendre recently chose District Central as its first stop on a tour of North American business districts, before…
Read More