2.0 FOOD: Keeping a constant eye on local brands
Up-and-coming businesses in the agri-food sector should look no further! Since 2016, Michel Cantin, founder and President of the brokerage firm 2.0 Food, has been hard at work representing Canadian brands to distributors. Today, some 15 local products such as the Laiterie Chagnon and Naak Cricket energy bars have the opportunity to be supported by an indispensable company in terms of brand positioning of foods in major retail outlets and speciality grocery stores.

Thanks to a clear vision, the team can develop long-lasting relationships built on trust between clients and supermarkets. 2.0 Food provides the best tools to capture the attention of consumers and optimize product placement and the management of their prices. Solid interpersonal skills and effective listening ability are key to the success of the "Dream Team". According to Michael Cantin, it is not enough to just randomly select contracts: "we focus on quality products made in Canada," he says. In less than two years, Michael and his 8 representatives are proud of the brands they work with from all four corners of Quebec.
Located at 55 Louvain Street West, 2.0 Food wasted no time in showcasing the Flow Alkaline Spring Water product line at Jazzy Thursdays at Place Iona-Monahan. The distribution of water bottles was the perfect opportunity to introduce Chabanel residents to the line's 100% recyclable packaging. The formula for guaranteed success is creating a connection between Ontario's water source and one of the many fun events the District has to offer!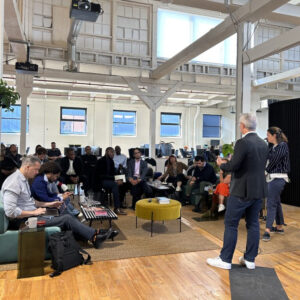 Dedicated to the international development of French businesses, the Paris-based organization Mieux Entreprendre recently chose District Central as its first stop on a tour of North American business districts, before…
Read More