Riipen : Student creativity contributing to the revitalization of your business
What is Riipen?
Riipen is a networking and project management platform between employers and higher education students.
What can Riipen do to help REVIVE businesses in the District Central?
Set up or accelerate projects (e.g., marketing, HR);
Conduct essential analyses for the revival of your economic activities
(business environment, financial projections);
Provide new perspectives on real business challenges;
Give practice case experience to students, thus promoting their employability.
What is the exclusive offer available to SDC District Central members?
FREE access to a PREMIUM one-year user license for up to 10 projects per year (value of $2,500).
It sounds interesting, but my company doesn't have a project idea yet… can we still take advantage of this offer?
YES! It is possible to respond to a project offered by an educational institution or take advantage of personalized support (for free!) from the Riipen team to help target a need or define a project to propose to students (examples >>).
Many projects are currently posted and ready to be matched with a business:

Interested? 
Subscribe to a next information session:
or contact the SDC team>>
514 379-3232 / [email protected]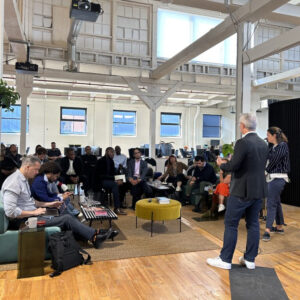 Dedicated to the international development of French businesses, the Paris-based organization Mieux Entreprendre recently chose District Central as its first stop on a tour of North American business districts, before…
Read More