Unveiling of the mural Iona and the Catwalk
Montreal, September 20, 2018 – Committed to revitalizing the fashion and business district and using art as a vector for development, the SDC (Société de développement commercial) District Central today unveils a mural honouring the historical character of the Chabanel district as an economic hub. Conceived by multidisciplinary artist Jacques Lebleu, his work can be viewed at Place Iona-Monahan, on the corner of Chabanel St. and Esplanade Ave. This artistic gesture is an initiative of the SDC District Central and Ahuntsic-Cartierville borough.
"This piece showcases Iona Monahan, a pioneering journalist and fashion champion, by bringing life to the place that was created in her honour" says Jacques Lebleu, muralist. More than 300 hours of work were needed to create this mural and Jacques Lebleu was able to count on the collaboration of Annie Hamel, an experienced and talented muralist.
"We are very proud to unveil this colourful artistic gesture that presents and emphasizes the industrial past of the area, explains Émilie Thuillier, Ahuntsic-Cartierville Borough Mayor. She goes on to say that "the neighbourhood supports the transformation of this large sector for jobs which is why we were thrilled to support this initiative that enhances the quality of life of workers and residents alike."
"This mural is a first step towards an incredible development project for the area, which is in full expansion" explains Charles Benchimol, Chairman of the Board of Administrators of SDC District Central. "Art and culture are tools that can be used to encourage businesses and creative minds to join us and be a part of the success of the business sector we are building", adds Hélène Veilleux, Executive Director of SDC District Central.
Iona Monahan was a journalism icon whose mission was to promote Canadian fashion throughout the world. In the 1960s, she handled many fashion shows for various organizations and was a favorite source for local designers. Lebleu chose this time period as the concept behind his mural. Monahan was appointed a Member of the Order of Canada in 1985 for her role in raising awareness of fashion in Canada. She was also named Woman of the Year by Fashion Canada in the late 70s. Iona Monahan died in 2006.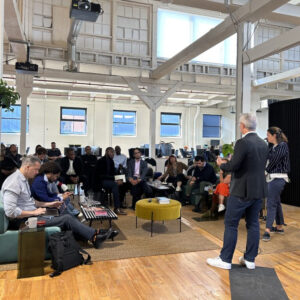 Dedicated to the international development of French businesses, the Paris-based organization Mieux Entreprendre recently chose District Central as its first stop on a tour of North American business districts, before…
Read More