Esplanade Louvain comes to life
After a dull summer in 2020, a pop-space will breathe new life into the District Central this summer. Esplanade Louvain, known in 2019 as the Green Haüs, returns in full force two years later. Come and discover an outdoor workspace, a place to meet and unwind, a playground and soon even a site for outdoor events! Here's to the future of Esplanade Louvain!
Easier to spot, the new and improved 2021 version of this pop-up space is located at the corner of Esplanade Ave. and Louvain St. in the heart of District Central. Its location is listed as the second reason behind its new name, the first being the desire to give it a more Francophone-sounding identity. "Originally, we chose Green Haüs, a name that reflected a universal and multicultural character, a nod to the many cultures in the neighbourhood. But the English side was no longer unanimous," explained Marie-Pier Tessier De L'Étoile, executive director and co-founder of Îlot 84, the creator of pop-spaces, including Esplanade Louvain, and events organizer.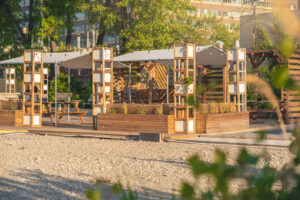 SDC + Îlot 84 = Esplanade Louvain
The project, which is being rolled out in many phases this summer, was initiated by the Société de développement commercial (SDC) du District Central, which wanted to bring life to this vacant lot. They wanted to create a space where the business community and residents could come together, mingle, relax, dine, all in the open air. The SDC approached Îlot 84, a non-profit organization (NPO) based in Montreal, founded in 2015 and particularly active since 2017 whose mission is: to bolster the urban experience through the creation of pop-up spaces and the organization of events. "We are trying to create outdoor spaces that allow people to connect to communities and gather in the city", adds Marie-Pier Tessier De L'Étoile.
After a 2020 season cut short, Esplanade Louvain not only changed its name, but it also optimized its concept. "The first season is always a learning season", said Marie-Pier Tessier De L'Étoile. "In 2021, we created more shaded areas and more spaces adapted to outdoor work." Free WI-FI, several electrical outlets, comfortable spaces like picnic tables and furniture strategically placed out of the sun: everything you need to work comfortably! A pétanque court was also set up on site, a boules game that brings people together and is very popular among many city dwellers. Vegetation is also in the spotlight this year. Perrenial spieces were planted and will bloom over the years as a floral legacy to this urban site. A restroom is on site, but it is the only service provided. "To buy a good coffee, Barista Microtorréfacteur is right across the street. Otherwise, Brasserie Silo is not too far and is perfect for decompressing after a work session," says Marie-Pier Tessier De L'Étoile.
The return of events
The first phase of the kick-off took place on May 27, 2020, inaugurating outdoor work and relaxation spaces. Workers and Montreal residents can now go there to work, meet up with colleagues, enjoy a picnic with friends or even play a game of pétanque. As soon as health guidelines allow, outdoor events will be back. Note that the space is also available for corporate reservations. "It has been a long time since work teams got together", notes Marie-Pier Tessier De L'Étoile. "Organizing events in the current context has not been easy. We decided to extend this offer all Montreal businesses who would like to plan a reunion party or highlight an event that has gone unnoticed as a result of the pandemic." Îlot 84 lends its expertise to businesses that can reserve the site for a specific date and be hosted for their event.
In addition to the SDC du District Central, Îlot 84 benefits from the support of the Ahuntsic-Cartierville, two key strategic partners since the beginning of the project. Fizz provides free Wi-Fi throughout the site, while Aire Commune oversees the programming of events. Aside from the vegetation that will enhance the beauty of the pop-up space, Ville en vert will manage a market garden. Esplanade Louvain truly has a lot going for it!
Stay tuned for upcoming events on the Esplanade Louvain Facebook page.
Information about corporate reservations can be found here.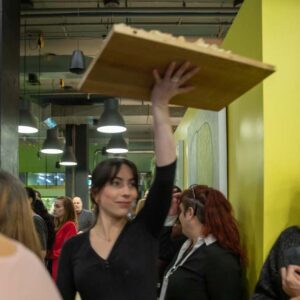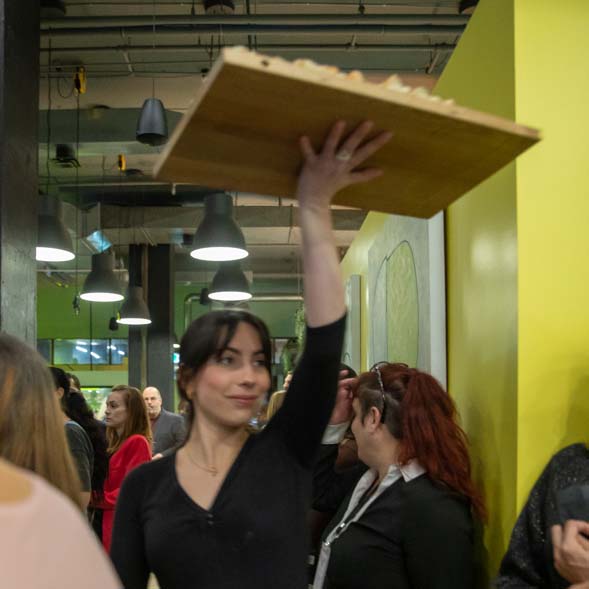 November 29, 2022 was festive at District Central! Here is a glimpse of the end of the year cocktail party that took place at restaurant Chabanelle.
Read More