In 2012, the Garment District welcomed a highly skilled and talented designer. Over the years, Mélissa Nepton collections have brought a breath of fresh air to the Montreal design world. Ever since she was a young girl, alongside her mother who designed children's' clothing and theatre costumes, was drawn to the sewing machine. Mélissa completed her studies at Cégep Marie-Victorin then crossed the Atlantic Ocean to further pursue her education at the École Nationale supérieure des Arts Décoratifs de Paris.
Showcasing her talent at a fashion show in France, Mélissa ensured a prominent entrance into the fashion industry. Although she was hired as a designer and buyer for the Groupe Marie-Claire, she used this opportunity to step into the spotlight in 2009, with an appearance on the reality show La Collection. One thing led to another, the young entrepreuneur also attracted the likes of Quebec celebrities, such as actresses Mélissa Desormeaux-Poulin and Marie-Ève Juste.
For Mélissa, District-Central offers many more possibilities and, growing with other designers as neighbours is motivating. Setting up shop in the heart of the needle trade seemed obvious to her. In 2012, the label upgrades to fashion 2.0 with an online boutique and stays on top of current trends via social media.
Her immense workshop communicates with the show-room to present her comfortable and sophisticated collections. For floral and geometric prints, we can rely on her twin sister Natacha who joined the business 3 years ago. Elegant and modern silhouettes taken right from her sketches meet the demands of the North American market and points of sale from east to west are only on the rise.

About the author
Living in Quebec since 2012, Diane Martin-Graser found the best way to appreciate Montreal's patrimony by writing themed articles. Fan of photography since she was 16, she started using silver film first during her stay at Lille. Since then, her focus has been on urban and social perspective. Also collaborating with Une Parisenne à Montreal blog and the 5th season of Printemps Numérique, Diane wants to help you discover the singular atmosphere of Montreal creation with an authentic and original twist.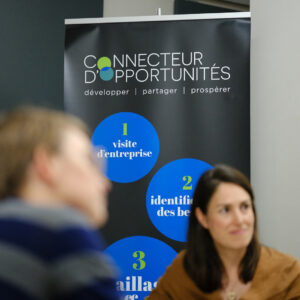 On the initiative of the SDC and Communautique, several businesses in the District Central came together at Maison Marie Saint Pierre on June 15, to participate in a collaborative circle…
Read More