Marie-Pier Tessier De L'Étoile talks about Green haüs, the pop-up space of the District Central
Work, relax, network or have a good time. This is what Green haüs will be offering as of June 13 in the District Central. To achieve this project, in line with the revitalization of the district, the SDC District Central reached out to Îlot 84, an organization specializing in the creation of synergy and stimulation-based pop-up spaces. We met up with Marie-Pier Tessier De L'Étoile, Executive Director of Îlot 84, to learn more about this organization.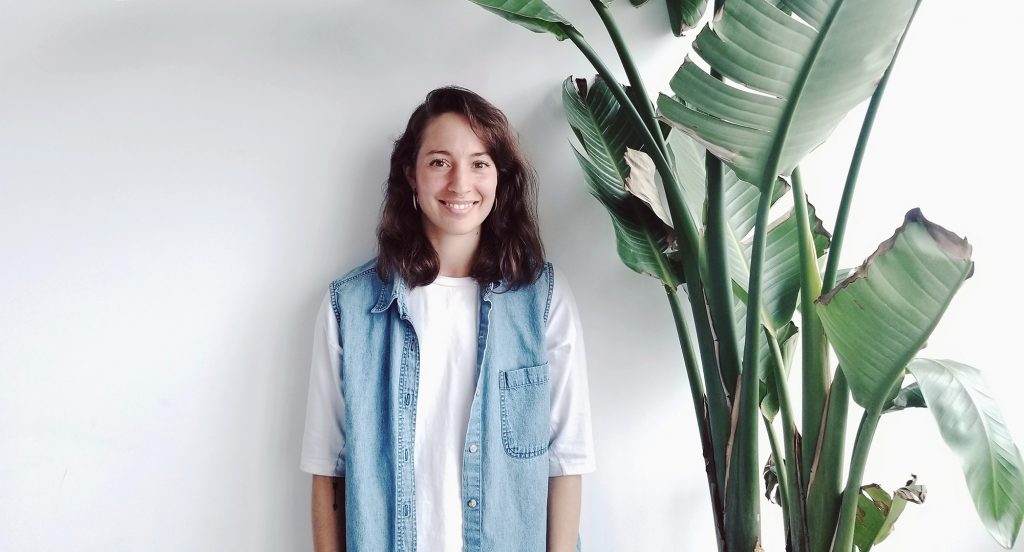 Tell us more about the mission of Îlôt 84.
It is an NPO founded in Montreal in 2015, whose mission is to revitalize urban spaces through cultural, professional and social projects. In recent years, we have specialized in the creation of ephemeral spaces offering programming adapted to the sectors where our spaces are set up. We have a team of 6 full-time employees, but during the summer season, our team of collaborators expands as we take on new projects.
Do you have any examples of past achievements you would like to share with us?
Our flagship project is Aire Commune, an outdoor coworking and event space in the Mile-End, which we tested out for one month in 2017. People quickly took to it, which made us realize its added-value to a neighbourhood, especially in a business district. This craze prompted us to propose a complete edition, which runs from mid-June to mid-September.
We also created the Village du Vilain Sapin, on the Plateau-Mont-Royal. The idea was to install a somewhat odd and interactive Christmas tree, and offer a small outdoor space to enjoy the neighbourhood during the holiday season.
What do you have in store for us this year?
We will be offering Aire Commune in the Mile-End, Green haüs in the District Central and Nouvelle Vague in the Old Port (the official announcement was made on May 2, read the press release here), in the Locks Sector, at the west end, where there are many businesses and workers.
What can we expect from Green haüs?
It will be a space, like a small oasis of greenery, where people can come to work or enjoy a drink in the evening, but also a place that will be animated, with a program developed for the most part by local actors and businesses. If, for example, we decide to discuss e-commerce, we will solicit a business that excels in this field based in District Central.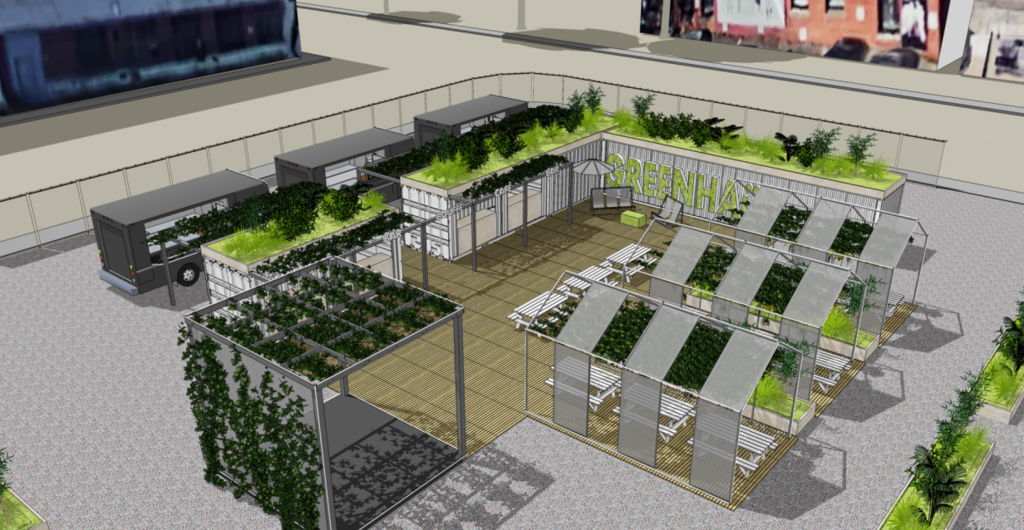 In a way, you are building on the strengths already in place to promote the district you are investing in…
Exactly, but we also present ourselves as a tool box, in the sense that we are a space with a program that must help actors in the district respond to different challenges. We strongly believe in sharing knowledge and solutions. It is this synergy that we are trying to create, that people from the same area get to know one another and establish connections to make their district shine.
What captivated you about the District Central, this old industrial sector committed to reviving its image?
The people of the SDC District Central have a very clear and long-term vision for this district that is in the midst of revitalization. They live here, the work here, they understand the district well. We share their vision of an economic hub building on the strengths and history of a neighbourhood that has experienced major transitions in recent years. We recognize its full potential; we feel it and see it among business and artists who have moved to this sector that boasts lower rents. Change is happening and it's only just the beginning. We need to do our part in the rebirth of the District Central.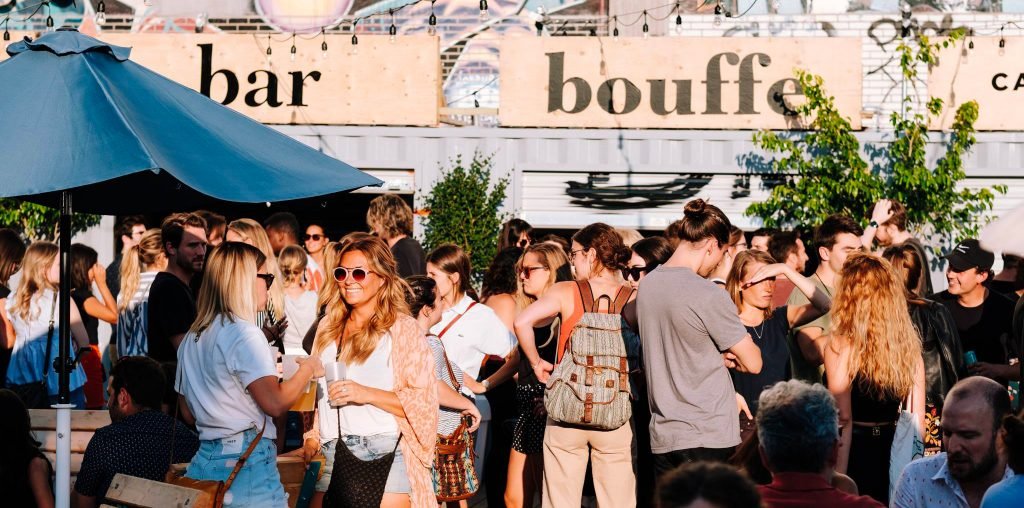 When is the Green haüs adventure set to begin?
The adventure will run from June 13 to September 19, and will be open from Monday to Friday, at the corner of Louvain Ouest and Avenue de l'Esplanade, where the main entrance will be located. We will announce all of the weeks' events in our Newsletter and on the Green haüs Facebook page. The program's main events will be unveiled on June 14. Spots on the calendar will be available to accommodate the opportunities this space will generate, as we experienced with Aire Commune.
What can we look forward to?
I strongly encourage people to keep an eye for the June 13 Facebook event. We tend to make bold announcements about the opening nights of our ephemeral spaces. What we have planned for Green haüs will set the tone for what's to come!

Article by Olivier Pierson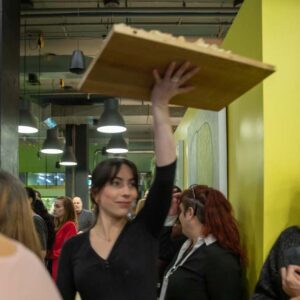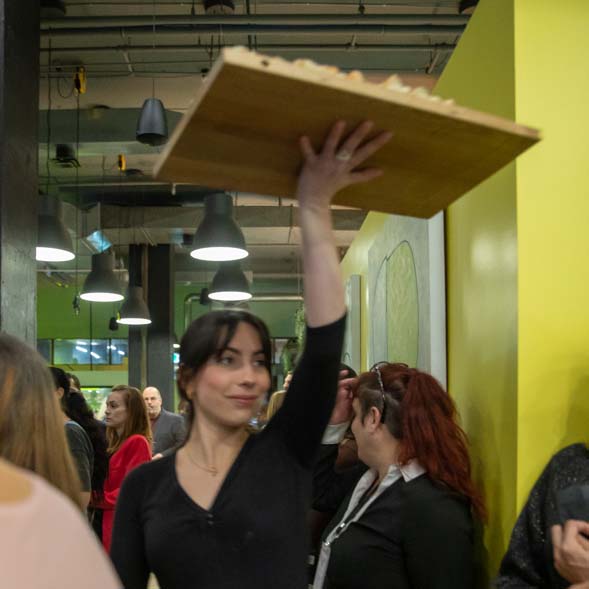 November 29, 2022 was festive at District Central! Here is a glimpse of the end of the year cocktail party that took place at restaurant Chabanelle.
Read More