Looking for a Project Manager in Marketing and Communications
POSITION: Project Manager – Communications and Marketing
LOCATION: District Central – in Ahuntsic-Cartierville
SUMMARY
Job type: 12-month contract with possibility of permanency
Schedule: 35 hours/week
Main job field: Communications and Marketing
Secondary field: Public Relations
Years of min. relevant experience: 5
Min. education: University
Salary: To be discussed
Deadline for applications: January 24, 2019
THE ORGANIZATION
The Société de développement commercial (SDC) District Central – the third largest in Montreal – is the catalyst and the voice for the Ahuntsic-Cartierville business world. It represents the combined forces of 1,800 business leaders united to develop a sector with outstanding economic, urban and human potential. Its mission is clear: breathe new life into this legendary quarter, make it shine on a broader stage and propel it to the very top of Montreal's economic landscape. To do so, the SDC is seeking ways to diversify the District's economic base in order to attract new businesses in both traditional and new-economy industries. The SDC also aims to contribute to the prosperity of its members based on a B2B business model, by making the District Central an attractive place to live and work, to be a part of a movement, and to leave their mark on a thriving neighborhood that will soon be the most dynamic business district on the Island of Montreal.
District Central stands as Montreal's 4th largest employment hub generating more than 25,000 jobs in the fashion, wholesale food, retail and technology sectors. The District covers a three square kilometer quadrilateral from Saint-Laurent Boulevard to Highway 15, and Highway 40 to Sauvé Street, and has the potential to accommodate up to 40,000 workers.
The SDC is looking for a dynamic and motivated individual to fill the position of Project Manager – Communications and Marketing to support the team, the Board of Directors and members of the SDC.
JOB DESCRIPTION
Under the direction of the Executive Director, the Project Manager – Communications and Marketing will be responsible for ensuring effective communications by developing creative strategies and action plans tailored to the needs of the area and to its members. He or she will coordinate various initiatives and work closely on implementing the SDC's strategic vision for months and years to come. The main responsibilities include:
communications and marketing-related tasks
-Develop and implement internal and external communication strategies with an emphasis on digital innovation and ensure regular monitor of its performance and the achievement of objectives
-Develop content strategies and animate different social media platforms to ensure the influence of the SDC among multiple audiences;
-Promote members of the SDC (videos, blog posts, influencers, etc.)
-Ensure the production and distribution of various content intended for public audiences (newsletter, communications, publicity, articles, videos, etc.)
-Update the website and ensure optimal referencing (SEO, Google AdWords, etc.)
-Oversee the coherence of the District Central's visual identity across various communication tools
-Develop tools to assess the performance of initiatives, generate statistics and media interest
-Ensure strategic monitoring of the area
-Assist the Executive Director and the President of the Board of Directors' in positioning the organization and its public role
-Oversee press relations, develop media partnerships and maintain existing relationships
-Coordinate the implementation of the media plans and communications campaigns
-Manage relationships with external partners by briefing, following up with and delivering promotional and campaign tools
-Translate and correct various documents
-Perform administrative tasks related to the position, in addition to other related duties deemed relevant (annual reports, service offerings, budget monitoring)
Event-related tasks
-Organize and ensure the coordination of activities, events and press conferences in the field in collaboration with members and various partners, animate social media
-Identify strong and weak points and recommend the necessary interventions to improve activities. Create a post-mortem assessment of events.
Conditions
1-year contract with possibility of permanency
Effective start date: As soon as possible
Salary to be discussed
Day-time schedule, available evenings and weekends on occasion.
REQUIREMENTS
University degree in a relevant field (communications, marketing, public relations, political science) or equivalent experience
Minimum of 5 years' experience in a similar position
Excellent command of Microsoft Office
Excellent knowledge of social media and analytical tools such as Google Analytics
Comfortable working with various programs and design software (MailChimp, Illustrator, Photoshop, InDesign, Power Point, and other software graphics)
Knowledge of business, real and the economic ecosystem
Ability to develop and express structured, clear and relevant arguments
Excellent command of written and spoken English and French
PROFILE SOUGHT – SKILLS
Innovative and creative mindset
Good sense of judgement
Ability to multitask
Autonomous and ability to meet deadlines
Meticulous, precision and detail-oriented
Strong political and strategic sense
Good sense of organization and priorities
Works well under pressure
Ability to negotiate
Committed, enthusiastic and team spirit
TO APPLY
Please submit your resume by e-mail to info@district-central.ca
Note: Only selected candidates will be contacted.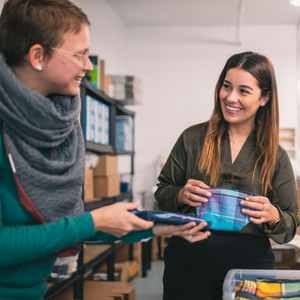 It's 2018. The recently established SDC District Central is beginning to develop its business plan. From the outset, entrepreneurs who are participating in the brainstorming process confirmed the pivotal nature…
Read More