Looking for a Project Manager – Connector of Opportunities
SUMMARY
Job type: Temporary – 30 months
Schedule: 35 hours/week
Main job field: Business development
Secondary field: Business services
Years of min. relevant experience: 3
Min. education: University
Deadline for applications: January 15, 2021
THE ORGANIZATION

La Société de développement commercial (SDC) District Central – the third largest in Montreal – is the catalyst and the voice for the Ahuntsic-Cartierville business world. It represents the combined forces of 1,800 business leaders united to develop a sector with outstanding economic urban and human potential. Its missions is clear: breathe new life into this legendary neighbourhood, make it shine on a broader stage and propel it to the very top of Montreal's economic landscape.
The District Central is Montreal's 4th largest employment hub generating more than 25,000 jobs in a growing business ecosystem, and has the potential to accommodate up to 40,000 workers. The district boasts a variety of industries and draws on three business pillars: design (textile), urban manufacturing and technology. The District covers a three square kilometre quadrilateral from Saint-Laurent Boulevard to Highway 15, and Highway 40 to Sauvé Street.
The SDC is getting ready to launch the three-year Connector of Opportunities project, financed by the Fonds d'initiative et de rayonnement de la métropole, which will create an unprecedented synergy between local businesses. To do so, the SDC is looking for a dynamic and motivated individual to the fill the position of Project Manager – Connector of Opportunities.
JOB DESCRIPTION
Reporting to the Director of Strategy and Business Relations, the Project Manager – Connector of Opportunities will have to complete component 1 of the SDC's new Connector of Opportunities project; to create new alliances. He or she will connect with local businesses to identify business opportunities and launch concrete initiatives inspired by existing and future trends. He or she will also have to identify the needs and challenges of businesses and offer them innovative solutions.
The Project Manager will be the preferred point of contact and observer for businesses allowing him or her to target opportunities for the development of the territory and to mobilize the local socio-economic actors around them.
The main responsibilities include:
Build and animate a community of experts;
Develop the necessary tools for the implementation of the project (e.g. communication tools, canvassing material) in collaboration with the Communications team;
Contact and meet with businesses in the territory (in person and/or virtually);
Identify issues and opportunities for businesses;
Rigorously enter information and data collected in the SDC's CRM tool, know how to analyze the data, and highlight trends in order to develop strategies adapted to the needs of businesses;
Establish links between businesses and ensure the necessary follow-ups;
Coordinate and animate committees and collaborative circles;
Understand and use the SDC's ecosystem and know how to refer to the appropriate resources;
Ensure that projects are in line with the SDC's relaunch plan, the business plan and all other SDC projects in progress or under development;
Ensure the implementation and follow-up project obligations and deliverables;
Ensure project accountability (writing reports with supporting documents);
Ensure the sustainability of actions to ensure the continuation of the project;
Perform all other related tasks.

CONDITIONS
Effective start date: February 22, 2021;
Daytime schedule, available evenings and weekends on occasion;
Telework available.
REQUIREMENTS
University degree in a relevant discipline (business development, project management, economic development, business) or equivalent experience;
Extensive knowledge of the business environment and related issues;
Expertise in business development;
At least 3 years' experience in a similar position;
Excellent knowledge of Microsoft Office;
Bilingual is a must (English and French, written and spoken);
Comfortable using client management (CRM) tools (asset);
Experience in the associative and/or business group environment (asset).
SKILLS
Positive attitude, open-minded, team player, adaptable, autonomous, Attitude positive, sociable and dynamic;
Proven ability in member and client services, ability to understand the business environment and the ability to mobilize;
Strong sense of priority management and organization, flexibility and discretion.
TO APPLY:
Please submit, in french, your resume and cover letter by email to info@district-central.ca
Note: Only elected candidates will be contacted.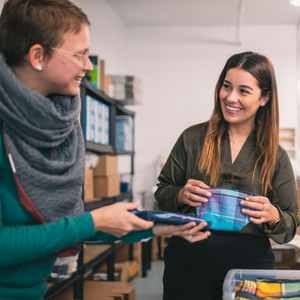 It's 2018. The recently established SDC District Central is beginning to develop its business plan. From the outset, entrepreneurs who are participating in the brainstorming process confirmed the pivotal nature…
Read More