In the News – The Migration of Artists to the District Central
CBC's Debra Arbec focused on the results of a study conducted in the District Central, an exercise that sought to confirm our observations: More and more artists are migrating to our neighborhood. Why are they coming? How can we continue to attract them and, more importantly, how can we counteract the trend of rising commercial rents and keep them? Watch this excellent portrait of our neighborhood.
Montreal A to V: A New Home for artists in Ahuntsic-Cartierville
​The first in CBC Montreal's series exploring the city's 19 boroughs. We look at Ahuntsic-Cartierville, where the neighbourhood, which was once the heart of the city's textile industry, is becoming a creative hub for artists.​
https://www.cbc.ca/player/play/2167183939847
Also read:
Journal des voisins, Camille Vanderschelden, 20 décembre 2022 : Le District Central terre d'accueil pour les artistes
« En tout, ce sont près de 500 artistes qui ont travaillé sur le territoire en 2022, de façon permanente ou ponctuelle.
Un chiffre « impressionnant », selon Geneviève Dufour, directrice Stratégie et relations d'affaires à la SDC. »
Article in French only:  https://journaldesvoisins.com/le-district-central-terre-daccueil-pour-les-artistes/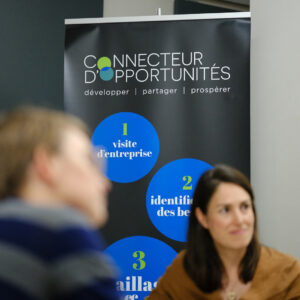 On the initiative of the SDC and Communautique, several businesses in the District Central came together at Maison Marie Saint Pierre on June 15, to participate in a collaborative circle…
Read More